My little Knight in training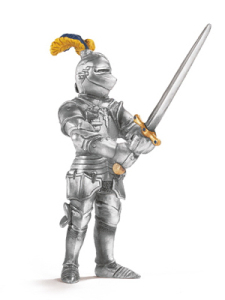 And as my daughter prepares to soar, my 4 year old son (my very own little knight in training) prepares for his own journey. A journey into Reception class.
He joined the school two days after his 3rd birthday. He looked so small compared to the older children. "He was only two years old last week, and now he's at such a big school" I had said to my husband on the phone after dropping him off. "He'll be alright" my husband had said. And he was right. My little boy had quickly made friends and was enjoying his time in nursery.
A couple of weeks ago the school had informed us of the groups that the nursery children had been split into for Reception and to my surprise (and that of some of the other Mums), my little boy was being placed into a group away from his closest friends. As my little Knight was still in training and not yet qualified to fight his own battles I stepped in and without going into great detail, was advised that the current process for splitting the children into groups, unfortunately, didn't allow for parent input or feedback and that unfortunately, no changes would be made. I was assured that changes would be made for next year and that the split wouldn't effect existing relationships. I guess time will tell.
It was only on reflection that I realised that although I wasn't happy with the decision, I took comfort in the fact that challenges like these will happen often in his lifetime and I won't always be there to fight his battles. He is a Knight in training and train he will. With the right support he will learn to be flexible, he will learn strategies, he will grow stronger and wiser and over time, he will learn to see every challenge in life as yet another opportunity to shine.
He is my little Knight in shining Armour.