Flying the nest…….What A Knight
Imagine the scene, high up on a rocky cliff face, a nest of twigs sits in a crevice, protected from the wind and weather of this exposed and dangerous location. The mother had searched for weeks and chosen this spot carefully. It provided ideal protection from predators, and shelter from the elements. It was a place where she would be able to leave her young knowing that they were safe. A place where she could feed and nurture them, helping them to grow. And here she had built her nest, laid her eggs, watched them hatch, and for weeks had been leaving her fledglings daily to look for food. She watched them grow.
Finally, she knew the time had come. She knew it would. She knew what she had to do.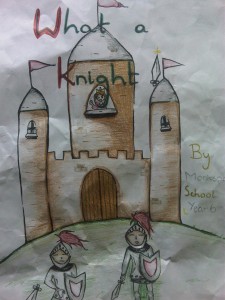 That morning, she left the nest but didn't go far. She looked back at her chicks, who were no longer chicks. Her babies had grown into fine young birds, strong and confident. Eager to explore the world beyond their nest.
She watched as her first born, stepped up onto the edge of the nest. A strong gust of wind passed and she retreated momentarily back into the safety of the nest. She emerged again. She looked down fearfully at the sheer drop in front of her and the then up, at the magnificence of the cliff that rose above her. She noticed that she was on the only ledge the cliff face had to offer. She looked out ahead of her. Out into the openness, over looking a world that was so new to her, so huge, so dangerous, so exciting, so full of opportunities.
Her mother watched nervously as her daughter flapped her wings, still holding on to
the nest, feeling the air beneath them. She called to her reassuringly and watched and waited. Although understandably apprehensive, the mother was fully aware of the wonders that the world had to offer her young. She herself had travelled far and wide and seen some of the most amazing things that the world had to offer and had had experiences that had helped her to grow wiser and even stronger. She had learnt many skills along the way that had enabled her to develop her own personality, to build relationships and most importantly, skills to survive. And she had survived. She knew she wanted these too for her children. She knew they were ready…..
Last night I watched my 11 year old daughter and her friends perform their final, year end performance at Solihull Theatre – An amazing production titled "What A Knight".
It was an emotional night as I watched these amazing, talented youngsters singing, dancing and acting with such confidence in front of over 300 parents, relatives, friends and teachers. A final performance before they finish their time at Primary School and move on to Senior School.  I don't think there was a dry eye in the house as the head teacher spoke a few final words reflecting on the youngters' time at the school and the exciting journies that they will be embarking on as they move confidently into the next chapter of their lives.
And, everybody in the audience knew the time had come. They knew it would. They knew what they had to do. They knew their fledglings were ready.
Good luck to all in Year 6 at Monkspath J&I school as you spread your wings.